Any technique that has a spiral is usually high up on a beader's list of favorite stitches. Not only are the projects beautiful and eye-catching, but they are lots of fun to do.
Spiral peyote is one of the most adaptable forms of spiral beadwork. Just by changing the arrangement of the beads, you can create nearly endless looks and patterns.
The technique is simply a variation of tubular peyote, worked best in even-count with a step-up at the end of each row. Using different sizes of seed beads doesn't so much create a spiral, as accentuate the pattern that already exists in a peyote tube.
To Stitch Spiral Peyote:
The first thing you want to do is determine a pattern for your spiral. You can use almost any combination of seed bead sizes that you want, but it is important to gradually increase the sizes. If you are using 3 or more bead types, you will need to decrease as well, so that the tube can close neatly.
For example, traditional Cellini Spiral begins with 11/o seed beads, then increases to 8/o and 6/o. A final row of 8/o seed beads are needed to close the gap between the 6/o and 11/o bead sizes.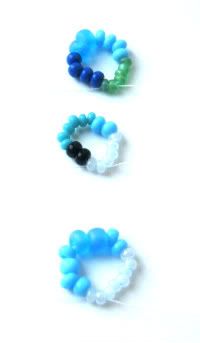 Like other types of peyote stitch, you must string your first two rows at the same time. Once you have decided on a pattern for your spiral, double the amount for each bead type. Attach a stop-bead to about an arm's length of beading thread, and pick up a that first set of doubled beads.
For Cellini Spiral, you would begin with six 11/o, four 8/o, two 6/o and another four 8/o.
Stitch through all of the beads again and pull tight to form a ring. The stop bead is only to help keep the tail thread from slipping back into the beadwork. Stitch through the first
TWO
of the smallest beads again. You must begin your spiral here, or the first row will not be aligned with the following rows. This step is especially important if you wish to connect the ends of your tube together using the
zip-up
technique.
Once you have your first row ready, the rest of the stitch is very straightforward. Like any other
peyote stitch
technique, you pick up a bead, skip a bead in the base row, and stitch through the next bead. Pull tight so the beads are snug.
Continue adding beads with peyote stitch, working around the ring. With basic spiral peyote, there's no need to count beads or stitches. Just remember to always pick up the same type of bead that your thread is exiting.
After you have added the last bead of that first peyote row, you will need to step up. Stitch through the first raised bead - also the first bead you picked up in the last round.
Even if you stitch with good tension, the first few rows of tubular peyote can be a bit kinky. Before adding the next row, turn the peyote ring through your fingertips, gently pressing to help snug up the beads and form a neater tube shape.
Slide the bead ring onto a mandrel or makeshift form like a pencil or knitting needle. Make sure that the working thread is exiting near the hand that you want to stitch with, and that the thread is pointing up and away from you.
Using the form will help you to keep even tension during the first few inches of beadwork. You can use anything as a form, and it does not have to have a snug fit. It's not there to create the tube shape, but to free you from having to grasp the first few rows of beadwork with your fingers. It also helps to keep the tail thread from getting in the way. You can wrap the tail gently around the form, and it should keep itself coiled there.
Hold the mandrel or form against the heel of your hand, and use your thumb to steady the beadwork near the opposite end. Now you can easily rotate the tube to add the next bead.
Continue adding new rows. Remember to pick up the same bead that the thread is exiting, and to step up before starting a new row. Because spiral peyote can create a tight space for adding the smallest beads, it is wise to do the step-up one bead at a time, rather than try to force the needle through two beads.
Once you have a few inches of beadwork, you can remove the spiral tube from the mandrel. Now the beadwork is long enough to be held steady and comfortably without squashing it.
Spiral Peyote Tips:
If you are making a bracelet, it is tempting to try and bend the beadwork to get a curve. Any tubular beadwork will appear very rigid when it is short, but it will become more flexible as you add length. Don't try to force the beadwork into a curve. When it's long enough, you will be able to bend it easily.
This is one of very few techniques where highly uniform seed beads can be less desirable. Using Czech seed beads, with their minute size variations, can create a much smoother spiral. As you work, look for beads that will help transition each new size from the previous one.


Multicolor Spiral Bracelet
by Pocket Full of Treasures
Share your spiral peyote tips or questions in the comments!
Copyright 2010
Inspirational Beading