As I write this, I think I may be sitting right between two of the hottest days of the year. Even in the wee hours of the morning, the heat from the previous day still lingers while the sun makes it's way back up the sky. Yet despite the summer's last attempts to melt everything in sight, fall is closer than ever.
You really can't beat fall. It's always a favorite time of year, because so many wonderful things occur in autumn. The weather is mild and bearable - you can do what you want and wear what you want while doing it. There are wonderful holidays, with even more wonderful treats. Seasonal fruits and vegetables are in abundance, and the air is fragrant and crisp.
Perhaps I'm letting go of summer too easily, but I can't wait for fall.
The Inspiration:
Sometimes ideas come from the most unusual sources. While I was working on a herringbone lariat using a mixture of red and pink seed beads, my husband walked by, and asked me why I was making red corn.
I had to look at the rope again with new eyes to see what he meant, but sure enough, the assortment of tiny red beads arranged in a neat tube looked just like a dried cob of corn. I was instantly overcome with a need to create a new lariat using fall colors and shapes.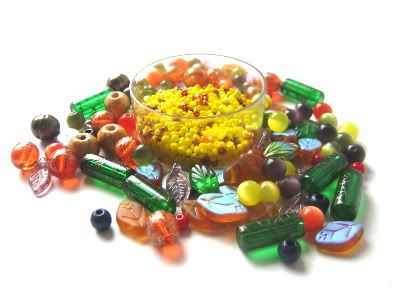 The Beads:
It took awhile to collect enough beads for the project I had envisioned. I wanted to include a variety of accents that would represent different types of fruits and vegetables. I also started collecting leaf beads of different shapes and colors.
For the corn itself, I started with a hank of yellow charlottes. I wanted to make sure that the rope had some natural-looking texture, and hoped the facets would add a natural look. I mixed the charlottes with Japanese seed beads in oranges, browns, and rusty reds. I thought the minute size and shape difference between the Czech and Japanese beads would also add a more organic look to the design.
The Beadwork:
This necklace was several months in the making, mostly because it kept getting put on the back burner for other things. Before I knew it, the end of summer was approaching and I had to get in gear and finish it. After a few weeks of stitching between trips to the beach and the pool, it is finally complete.
The corn rope turned out exactly as I had hoped, and although it comes in at over 40 inches, it was the easy part. Planning out each strand of fringe, and trying to evenly distribute all of the accent beads was the real challenge.
Each side of the necklace is basically the same, with different amounts of each seed bead color, and a different pattern of fringed strands. To keep things simple, I paired up the same beads each time: purple cat eye grapes with shell oranges, glass tube zucchinis with vitrail leaves, chocolate pearl potatoes with vintage amethyst leaves, and so on.
Although I used fewer strands of leaf fringe that I have with previous lariats like this, the fringe is full and lush, thanks to all of the beautiful accents. Because Cornucopia turned out exactly as I had hoped, it was totally worth all of the effort.
Copyright 2010
Inspirational Beading
and The Sage's Cupboard