The Inspiration:
I wanted to create a piece of beadwork that reflected some of the wonderful qualities of an often neglected holiday. Whether one makes resolutions or not, the fact is that the first day of the year is an important one. It's a time for looking forward, and orienting one's self with the past and future. To me, a perfect New Year's Eve night is a crisp, cold winter evening spent with warm company.
The Beads: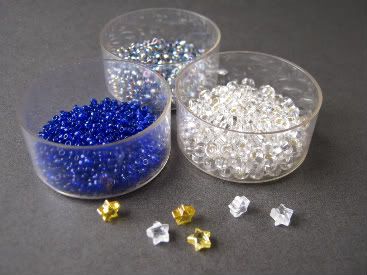 I started with a handful of tiny yellow and white
Cubic Zirconia star beads
from Artbeads.com. Not only are they perfect for imagining a clear winter night, but they can also be an example of the sort of choices we make on the first day of the year. Instead of diamonds, which can have
unfortunate origins
, these little beauties are created with science. To create a snowy night, I also selected 6/0 silver-lined crystal seed beads, cobalt blue 11/0 Miyuki's, and rounded out the palette with 8/0 silver lined blues.
The Beadwork:
I had envisioned a bracelet using the embellished right angle weave technique in my
Gaia Pendant
, with loops of pretty blue seed beads and sparkling CZ stars. After creating the base with silver lined beads, and adding the loops, I stood back and looked at the bracelet, not quite satisfied with how it looked. The dark blue loops were such a contrast against the light bracelet that they looked stark and somewhat naked. So I picked up the thread again and started adding more cobalt blue loops wherever they would fit.
The result of my experiment turned out much better. The addition of more 11/0 seed beads gave the blue section more weight. I like the way the loops are reminiscent of abstract art, sort of like a
Matisse
cut out, or just plain old doodling. The yellow and white
Cubic Zirconia
are the perfect contrast with the cobalt blue beads, and add a bit of the winter magic I was hoping for.
I would like to thank Artbeads.com for providing the CZ beads used in this design. Inspirational Beading has not received paid compensation for including Artbeads.com products or reviews in this blog post. I have shared my honest opinions about the products used in this design.
Copyright 2009
Inspirational Beading