Basilisk
Image Credit: kdm3000.
One of the most forgotten creatures of mythology is the fearsome and deadly basilisk. Known as the king of seprents, this creature has made appearances in many legends of ancient cultures, and has even been mentioned in the Bible. Although it's killing gaze and terribly potent venom were feared by many over the centuries, it rarely appears in modern fantasies - not nearly as often as dragons or unicorns.
The basilisk did make a brief return to the spotlight in
J.K. Rowling
's
Harry Potter and the Chamber of Secrets
, in which a giant snake terrorized Hogwarts School. In earlier legends,
the basilisk
had characteristics of both a snake and a rooster. It was the counterpart of the terrible cockatrice - a gruesome halfbreed with features of a cockerel and lizard.
The Inspiration:
The basilisk that I know best is the fantasy interpretation - a deadly blue-black snake that can kill with a single stare. Lately, my interest in strange and obscure creatures has been renewed after flipping through an old D&D Monstrous Manual in my weird and wonderful home library. I wanted to create a piece of jewelry to represent the mysterious and scaly basilisk, with it's hard skin and dark colors. Although it is one of the least pleasant monsters of mythology, I like a challenge of making something terrible look beautiful.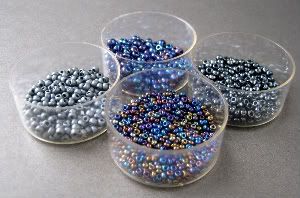 The Beads:
To mimic the shiny hardness of a magical snake's scales, I started with a mixture of dark metallic seed beads in 11/0 and 6/0. To these I added 8/0 seed beads in metallic hematite and matte gunmetal. The combination of colors and finishes created exactly the effect that I was looking for. Each one could represent a different side of an endless, slithering monster.
The Beadwork:
To achieve the look of many tiny scales, I used my bead selections to create a hollow right angle weave bangle. First, I created a long strip from the 11/o seed beads, with a single row of black 8/0's at the edge. When it was long enough, I stitched the ends together to form a loop, and added a few rows of the grayish matte gunmetal to either side of the ring. Once these were added, I pulled the edges together, and stitched them shut using the colored metallic 6/0 seed beads.
The larger beads along the middle of the bangle create a ripple effect. For this piece, I like the way it looks - there's no need for perfection when you're recreating a fearsome myth - and the changes in texture look more like a real serpent. If I were to make another bangle with this method, I would stick to two sizes of beads to make the beadwork smoother. I wasn't sure how much the beadwork would shrink once the edges were cinched together, so I cautiously made the first strip of beads quite long. I discovered that there is very little change once the bangle is assembled, so it is larger than most bracelets. I have declared this piece to be my first guy-friendly accessory.
Copyright 2010
Inspirational Beading