Throughout history, many different cultures have valued the magical properties of everyday objects, which can be contained and harnessed with the help of amulet bags. Made from a tiny pouch on a long cord, amulet bags are worn over the heart, and contain assorted talismans that are significant to the wearer. They can be used to carry herbs, medicines or tobacco, or crystals and minerals that have healing powers. Other types of magic can also be found in mementos and gifts from loved ones, locks of hair, or even animal bones.
Today, many people enjoy wearing amulet bags, sometimes for their beauty alone. Many artisans create them from cloth or leather, while others weave them from tiny seed beads. A common style is the tubular peyote bag, which can be created with beautiful
graphic patterns
. Julie, also known as Jewels of
Le Beadoir
, uses knitting techniques to create her stunning seed bead pouch jewelry. The pretty, scalloped texture of the bead knitting gives them an elegant look not often found in traditional amulet jewelry.
Inspirational Beading:
When did you first discover beadwork?
Jewels:
I was first introduced to beading by my grandmother. To this day, I am convinced that this introduction was her method to keep my 8-year old self from getting underfoot. I still remember the old wire loom and the tiny seed-bead filled 'Sucrets' tin she plopped in front of me on the kitchen table. I stuck to simple loom-woven patterns of bracelets, chokers and anklets for quite a few years before discovering other off-loom bead weaving stitches, the first being Square Stitch; more than likely because the finished result looked the same as my loomed the pieces, so I could use the same patterns I had already graphed.
Inspirational Beading:
How did you come across your amulet bag design?
Jewels:
A dear friend of mine, Kirsten, had been making some for so long. She got the pattern from an old 'Housewives' magazine from the late 1800's. She more or less taught me how to make them by letting me watch her work on her own. She kept saying "If you can knit, you can make them", but since I never was too good at following knit patterns, I simply improvised and put my own spin on the design. My mood pretty much dictates the shape of the bag itself, from scalloped to straight edges, and figuring out how to embellish them is also quite a lot of fun.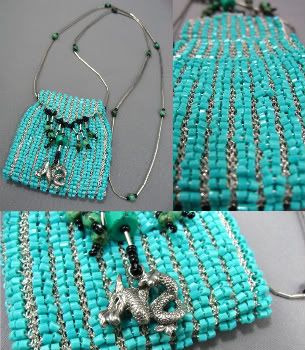 Inspirational Beading:
What is your favorite source for inspiration?
Jewels:
Hands down Mother Nature has the upper hand where color palettes are concerned, so I gather a lot of my inspiration from Her. She also has a knack with textures, which I've often tried to replicate in my pieces. My interest in passing trends is mostly fleeting, but I having been influenced by them on occasion. Sometimes it's nice to know what's "In", like necklace lengths, cuff widths, or even which metals are de rigueur.
Inspirational Beading:
Do you have an all time favorite bead color?
Jewels:
I can't say I do. But I do have a particular fondness for matte finishes, and iridescent too. Matte iridescent finish in any color would certainly please me.
Inspirational Beading:
Who do you hope to inspire with your work?
Jewels:
Well, if I were setting out to inspire, I suppose it would be to inspire people to own and wear my pieces. My main goal whenever I make something is its "weareability". I want my work to give that "I simply MUST have it" feeling. Nothing touches me more than seeing someone else love my work as much as I loved making it.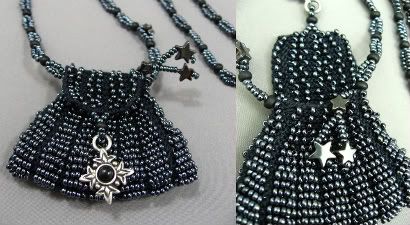 Jewels has strong artistic roots, and received a lot of creative influence from a family of painters, dancers, musicians and seamstresses. One family member even worked as a milliner, who once made a hat for the Prime Minister's wife. She also learned about the value of recycling and using resources as much as possible. She is now passing on these standards to her daughter - also an aspiring artist. When she's not creating or working on her shop, Jewels enjoys belly dancing.
In addition to
Le Beadoir
, Jewels also has a knit and fiber accessories shop called
L'Atelier JLB
. You can learn more about Jewels and her work on her blog
Le Beadoir & L'Atelier JLB
. To stay up to date on her shop news, follow
Le Beadoir on Facebook
.
Copyright 2010
Inspirational Beading
and
Le Beadoir