Worshipped by many groups, including the Mayans and the Aztecs, Quetzalcoatl was generally represented by a feathered serpent. Over time, he gained humanoid features, and became a reptilian man with colorful plumes.
Quetzalcoatl
was considered at different times a god of air and agriculture.
The Inspiration:
The Quetzalcoatl I know best is the fantasy version - much like a dragon with beautiful multicolored wings. Perhaps because of rainy winter weather, I have been craving rainbows. Rather than make something really upbeat and whimsical, I wanted to use a rainbow palette for something with a little more edge. The first thing that came to mind was a Quetzalcoatl serpent.
The Beads:
I started with a few green beads for a base, choosing emerald green hex cuts and a transparent green seed bead mixture. I also grabbed some yellow lined black 11/0's, which have an amazing reptilian quality to them. To this I added transparent 11/0 seed beads in yellow, orange, red, purple, blue and aqua.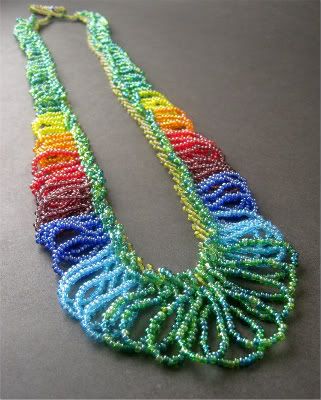 The Beadwork:
I wanted to make something that would look like wings, with the feathers on the underside spread wide. Using the green beads, I made a base of St. Petersburg chain, then added scalloped loops to the top. For the serpent body, I started with the transparent green mixture, and slowly increased the size of the loops. Eventually I added the colored beads in groups of four, and increased the loops with each new color. Green finished off in the middle again, creating a continuous loop of color.
Although the brightly colored stripes are clearly rainbow inspired, I think I succeeded in making something that wasn't at all juvenile in mood. It reminds me a little of souvenirs from South and Central America, which is almost what I was going for!
Copyright 2010
Inspirational Beading