Of all the mythical and magical beasts in popular lore, the unicorn may be the most loved, second only to dragons. Like horses, unicorns are a favorite among girls, probably because the only thing better than a pretty horse is a magical one.
There are many different incarnations of the unicorn in modern media. The most common is a white mare with a golden horn. Often they are depicted with goat-like beards, and feathered hooves similar to Clydesdales. These beautiful and gentle beasts are a great departure from the first unicorn legends. The creatures that are described by the explorers of ancient times were huge, dangerous beasts with unpleasant features. Like most mythical animals, the unicorn's traits can usually be traced back to actual species that were mistakenly identified as supernatural. The
unicorn
that we know today was likely born from different tales of the rhinoceros, oryx and narwhale.
Although we know that early sightings of unicorns are mere exaggerations, even adults don't mind imaging a world where horned white horses watch over the innocent and live peaceful, secret lives. Today's Poster Sketch offers a glimpse of these lovely beings, through the eyes of Etsy artisans.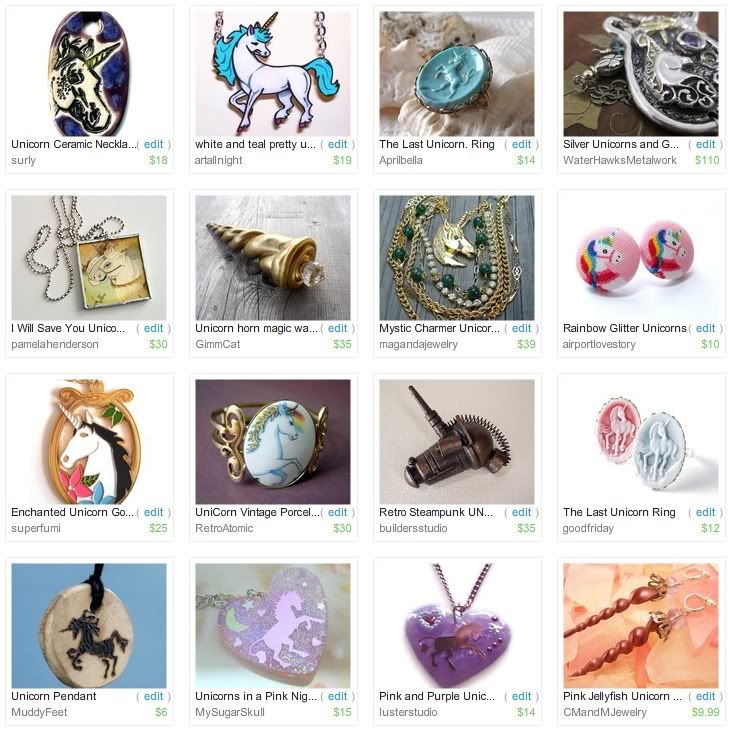 Row 1:
Unicorn Ceramic Necklace by
Surly-Ramics
White and Teal Unicorn Necklace by
artallnight
The Last Unicorn Ring by
Aprilbella
Silver Unicorns and Golden Dragons Pendant by
WaterHawksMetalwork
Row 2:
I Will Save You Unicorn Necklace by
Pamela Henderson
Unicorn Horn Magic Wand by
GimmCat
Mystic Charmer Unicorn Statement Necklace by
magandajewelry
Rainbow Glitter Unicorn Buttons by
airportlovestory
Row 3:
Enchanted Unicorn Pendant by
superfumi
UniCorn Vintage Porcelain Cuff by
RetroAtomic
Steampunk Unicorn Robot Pendant by
buildersstudio
The Last Unicorn Ring by
goodfriday
Row 4:
Wood Unicorn Pendant by
MuddyFeet
Unicorns in a Pink Night Sky Resin Necklace by
MySugarSkull
Pink and Purple Unicorn Pendant by
lusterstudio
Pink Jellyfish Unicorn Horn Earrings by
CMandMJewelry
Copyright 2010
Inspirational Beading
and Etsy.com