I was recently honored with my second Sunshine Blog Award, from Teresa of
T.Rusk4u
. I think that the award is very well named, since sending out nominations is a great way to brighten someone's day. There is nothing like a burst of sunshine to inspire new energy and creativity.
The Sunshine Blog Award is awarded to bloggers whose positivity and creativity inspires others in the blog world. The rules for accepting the award are:
1. Put the logo on your blog or within your post.
2. Pass the award on to 12 bloggers.
3. Link to the nominees within your post.
4. Let them know they received this award by commenting on their blog.
5. Share the love and link to the person from whom you received this award.
This time around, I am nominating some of my favorite, newer bloggers, who are working hard to create memorable articles and journals for everyone to enjoy. My newbie Sunshine picks are: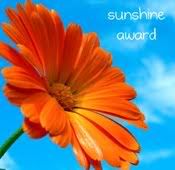 Little Bear's Mom
act natural * feel good
Joanniel Creations
Tres Belle Knits
Craft Dinner!
Gothic Soul Retreat
KSK Designs
Lovelies From Mihana
And a few of my favorite veteran bloggers:
Cutie Patootie Beads
Enchanted Beads
bstudio designs
The Art of Zen Crochet
To celebrate the Sunshine Award, this week's Poster Sketch is a collection of bright and sunny designs. Many of these pieces are inspired by different solar deities such as Apollo. Others feature distinctly sun inspired shapes and colors.
Row 1:
Sun Man Brooch by
Marynickydesigns
Apollo Earrings from
XquisitebyLadyM
Garuda Earrings by
Kezzmit
Distant Sun Lampwork Focal by
EithneGlass
Row 2:
Inti Raymi Necklace by
7oh1jewelry
Surya Chandra Beaded Necklace by
moondogtreasures
Antiqued Sun Shine Goddess Cabochon by
sculptedwindows
Sterling Silver Sun Moon Necklace by
abeadonawire
Row 3:
Grandfather Sun Ceremonial Necklace from
theluckyfish
Colors of the Sun Lampwork Focal by
WhitneyLassini
Swirly Sun Necklace by
EquosDesigns
The Beaded Suns Dreamcatcher Necklace by
Mariquez
Row 4:
Sunshine Ceramic Pin and Pendant by
firedupladies
Topaz Sunflower Pendant by
StickLizardDesigns
Red Sun Goddess Amulet by
mysticorb
Rising Sun Medallion Necklace by
TheJewelryChateau
Copyright 2010
Inspirational Beading
and Etsy.com