When Zeus banished the Titans to Tartarus in the Greek myth, the giants took their revenge by sending forth their monstrous children to terrorize the realm of the new gods. Gaia gave birth to the serpent Typhon, and though he would also be defeated by Zeus, he was able to wreak much havoc on the world, and sired three more terrible creatues: Cerberus, Hydra and Chimera.
These three-headed beasts are well known in Greek legends, and are still favorite monsters in many fantasy stories. The least well known is the Chimera, though it is arguably the most interesting of Typhon's children. With the heads of a dragon, a lion, and a goat, this monster is often depicted as female. In some versions of the legend, the
Chimera
was the mother of the Sphinx.
In modern art and stories, the anatomy of the Chimera has taken on many different forms. A Chimeric Creature is a blending of three monsters and animals, sometimes with multiple heads, and often bearing the wings and tail of a dragon.
The Inspiration:
Before I took up bead weaving, I collected vintage acrylic and lucite beads, and used them to create tapestries of bead strands to decorate my home. After many moves and encounters with kids, some of them are a bit disheveled. One that has survived completely intact is made entirely with red and black beads. It's one of my favorites.
Like any decoration that hangs around for a long time, I had started to take my bead tapestries for granted. The red and black strands caught my attention one day, and I wanted to refresh my interest by making a piece of jewelry with the same elements. When I thought of the red and black together, I thought it would be fun to create a tribute to the mythical Chimera, using the traditional three headed version as inspiration.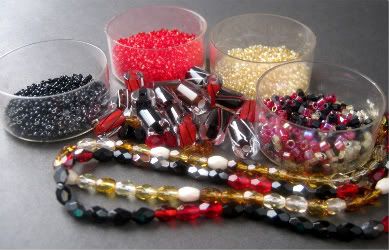 The Beads:
I started with three shades of 11/0 seed beads - light amber for the lion, Siam ruby for the dragon, and opaque black for the goat. For accents, I combined two mixtures of
Fire Designs
Furnace Glass beads - Queen of Hearts and Strawberry Shortcake. I selected my favorites in red, black and brown from this new mixture. I had a hard time choosing, and took a long while to create a balance between the single colored beads, and those with striped accents. I also added mixed strands of Czech fire polish beads in amber, jet and garnet, and a homemade mixture of hex cuts and
Toho™ triangles
in my Chimeric color palette.
The Beadwork:
I have always been a huge admirer of Margie Deeb's
Rainforest Cascade necklace
, with it's luscious strands of beads. I think most bead lovers can relate to the intense craving that thick strands of beads can induce. Although I love to look at them, I'm usually reluctant to use bare seed bead strands in my designs. My seed beads call out to be woven! So I sketched out a design that would have the same cascading feel that I liked, but used the tiny beads in a more structured way.
To create a pendant, I used black hex cuts to make a tapered base, then added 17 strands of wide fringe. Each of the 17 strands ends with a cane glass bead, and has long fronds of seed beads ending with hex cuts or fire polish beads. To add some depth to the fringe, I mixed my original three seed bead colors with color-lined seed beads in dark amber brown, mauve and jet black. The lion colored fringe is at the center, so that the outer colors match up with the tubular peyote rope. I love the way the wide fringe has elements of both beadweaving and multi-strand, and the furnace glass adds just the right amount of texture. I almost don't want to let this piece go!
I would like to thank Artbeads.com for providing the Fire Designs beads used in this piece. Inspirational Beading has not received paid compensation for including Artbeads.com products or reviews in this blog post. I have shared my honest opinions about the products used in this design.
Copyright 2010
Inspirational Beading