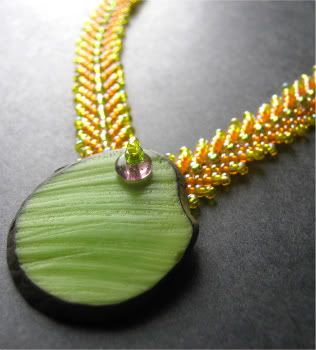 Is there a perfect bead weaving stitch for necklaces? As with most beading skills, a perfect necklace technique is a matter of preference. Some common criteria would be adaptability - a technique that can use many different types of beads, and support different types of embellishment is sure to rise above the rest.
Whenever I have an idea for a great beadwoven pendant, or just want to use a new focal bead, St. Petersburg chain is often the stitch that I think of first. It's relatively easy to stitch up, it works with any color or size of seed bead, and there are lots of fun ways to make it more interesting. Unlike a lot of other chain stitches, St. Petersburg can be increased, and adding a second layer is easy to do once you know the basic steps.
To Make a Double St. Petersburg Chain: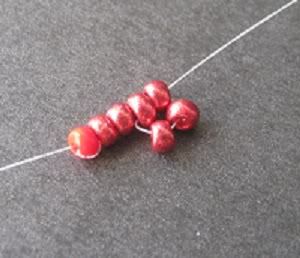 Start by creating a single chain. Attach a stop bead to a comfortable length of thread, and pick up 6 seed beads (Color A). Slide these down to the stop bead, then stitch back up through the 3rd and 4th beads again. Pull tight until the last two beads are snug against the middle two. If the first 2 beads have come loose, just snug up the stop bead.
Next, pick up one seed bead (Color B), and stitch back down through beads 4, 3 and 2 from the previous steps. Pull the thread snug, and pick up one color B seed bead. Stitch up through the two separate A beads (5 and 6) and pull tight.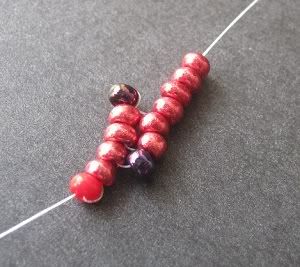 Pick up four A seed beads, and slide them down to the beadwork. Stitch up through the first two, and pull tight, making sure the new beads are snug against the beadwork. Add the B seed beads as before. Continue with the technique, until the chain reaches the desired length.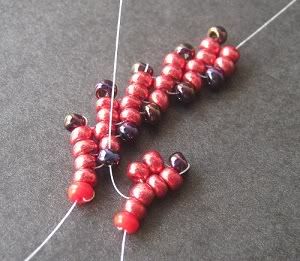 With a new thread, start a second chain as before. Instead of adding the second, lower Color B, stitch up through the first B from the other chain. Continue through the two Color A beads from the new chain, and resume stitching, sharing the center B's along the chains.
There are lots of ways to vary the look of a double St. Petersburg chain, such as using different sizes for the shared beads. You can also continue adding more chains, linking them together by the B beads to create flat beadwork with a triangular pattern. To create my Easter inspired Zig-Zag ring, I used separate colors for each row, and connected the 3 chains together at the ends.
For another fun St. Petersburg variation, you can add scalloped fringe to a finished chain. For a full project tutorial, see my
Desert Flower Necklace
on the Auntie's Beads Blog.
Happy beading!
Copyright 2010
Inspirational Beading