Beautiful Blue
Photo Credit: Églantine.
Two of our favorite spring characters - the flower and the bird - could not get on without the insect. Bugs are often thought of by we humans as annoying, terrifying and even destructive enemies. The truth is that most of them are very important for keeping some of our favorite things thriving.
Pollinators
like bees, and decomposers like worms, make the flowers thrive. Every bug imaginable is food for some kind of bird, if they're unlucky enough to be on the menu.
Because I've never been concerned with things like having the perfect lawn, flowerbed or garden trees, insects have never been my enemy. Apart from things that skitter in the night, like spiders, I would rather photograph a bug than squash it. I say, let them go about their business.
The Inspiration:
One of my favorite bugs from childhood is the caterpillar. Every few years or so we would be bombarded with black and yellowish
tiger moth caterpillars
. It was like having a yard full of tiny stuffed animals to play with. I also really enjoyed the bluish forest tent caterpillars, which drove everyone else crazy by eating everything in sight. I liked them because they have these sticky little feet that tickle when they crawl across the back of your hand, and a very interesting pattern of color along their backs.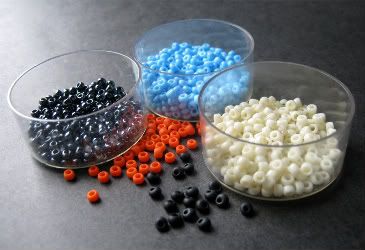 The Beads:
I wanted to recreate a caterpillar, so I started with 11/0
seed beads
in light beige. This would be the base of my caterpillar, or his belly. The color is just like ivory, and I thought it was perfect for a new spring bug. Then I added 8/0 seed beads in light blue, marbled hematite, matte pumpkin orange, and light beige as well. I finished off the palette with some matte black magatamas for little insect feet.
The Beadwork:
When working on my
Dandelion Bangle
, I had wondered how it would look when using drops along the outer edge of the right angle weave tube. Making a caterpillar was the perfect opportunity to experiment with the extra texture. The
magatamas
make wonderful 'feet' along the edge of the beadwork, and stitching around them was easy.
I used the beige, black and orange beads to make a buggy pattern on the outer face of the bangle. It does remind me of all the caterpillars I collected as a kid. Although I know that these tiny bugs can do a lot of harm, I can't help thinking that there would be fewer caterpillars if there were
more birds
to eat them.
I would like to thank Artbeads.com for providing the TOHO™ seed beads used in this piece. Inspirational Beading has not received paid compensation for including Artbeads.com products or reviews in this blog post. I have shared my honest opinions about the products used in this design.
Copyright 2010
Inspirational Beading
and
The Sage's Cupboard