Strawberries
Photo Credit: .kaishin..
Sometimes, the best part of spring is the anticipation of summer. There are hints everywhere of what is soon to come, and some of the most beautiful of these hints are the fruit blossoms. At this very moment, cherry trees are covered in pink coats, which will soon blanket our streets with sweet confetti as the trees prepare their fruits. When we see these little flowers appear, it's a sign that summer isn't far behind.
The Inspiration:
I'm a big sucker for strawberries. Although I occasionally treat myself to the monstrous Mexico-grown berries that are always in stock, I much prefer the natural perfection of a garden strawberry. Like most seasonal treats, they are even more delicious because they're only around for a short time every year. When spring finally comes along, flowers and blossoms remind me that strawberries are on the way, too.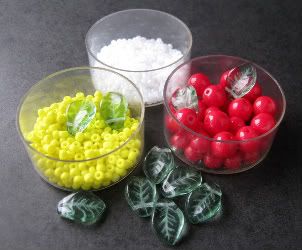 The Beads:
To use beads to capture the excitement of budding strawberry plants, I started with some red
Czech glass druks
in 4, 6 and 8mm sizes, and matched them with some transparent red 15/0 seed beads. The cherry red color has that "Wow!" quality that is perfect for a fruity design.
To create blossoms, leaves and accents, I collected yellow, Ceylon pearl and jade green seed beads in both 8/0 and 11/0 sizes. Then I topped the whole palette off with some wavy green
Czech glass leaves
.
The Beadwork:
The very first time I tried pearl netting, I wanted to experiment with using different bead sizes to sculpt unique shapes. With only a vague idea of what I was doing, I set out to create a strawberry shape, using the red druks and 15/0's, with yellow beads acting as the strawberry seeds. A part of me expected it to turn out looking ridiculous, so I was thrilled when even my toddler could tell that I had made a strawberry out of beads.
To make the necklace straps, I stitched a chain of white and yellow blossoms and small red druks, with regularly spaced glass leaves. After attaching the clasp, I added a second chain with a mirrored pattern, but shared the leaf beads. I really love the look of all four colors together. Although they could all be seen together in a holiday motif, here they remind me of vintage kitchen accessories, like canning labels, pantry shelf liners, or tablecloths. This alone could be a great reminder of summer, especially for anyone who spent a lot of vacations at Grandma's house.
I would like to thank Artbeads.com for providing the Czech glass beads used in this piece. Inspirational Beading has not received paid compensation for including Artbeads.com products or reviews in this blog post. I have shared my honest opinions about the products used in this design.
Copyright 2010
Inspirational Beading