Imagine being able to take your favorite image and turn it into a beautiful glass pendant. The design possibilities would be endless, and you'd never be at a loss for unique and stunning focals for your jewelry. There are a few lucky artists out there who can do just that, and their work is the envy of many a beader.
Cindy Valenzo creates some of the most breathtaking fused glass pendants and cabochons, depicting everything from flowers and birds to colorful abstract patterns. Her pieces have a museum quality look that would add a Wow factor to any design - assuming that you don't become too attached to use them.
Inspirational Beading:
How did you become interested in working with glass?
Cindy:
I have always been intrigued by glass but the art form started with stained glass windows that I wanted to make for my kitchen cabinets. It then progressed to lamps and foyer transom and side light windows. I did private commissions for several years and then became interested in fusing to do insets for the stained glass and eventually wanted to do tiles. The scraps became my sources for jewelry. Pretty soon I gave up most of my stained glass commissions and concentrated on jewelry and accessories.
Inspirational Beading:
What is your favorite source for inspiration?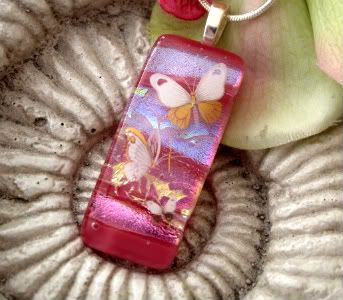 Cindy:
Color. Anything with bright and lush color will attract my eye and then the imagination takes over. It can be very frustrating because there are certain colors in Dichroic glass that are hard to achieve. Clothing, flowers or anything in nature can be the spring board for a new adventure. Sometimes it's mistakes that launch the newest idea.
Inspirational Beading:
Do you have a favorite color to use?
Cindy:
The blues and greens are the most popular colors in fused glass but I like to work with reds and earth tones such as copper and rust. These are the hardest colors to work with and achieve, so when it turns out right it's quite a joy! I love to layer and bring out new shades and effects that attract the eye and make people say "Wow! How did you do that?". The best surprise is when I get a client's positive response.
Inspirational Beading:
If you could master any new technique or craft, what would it be?
Cindy:
I would love to be able to paint on glass with a brush so that the colors could be blended and permanent. The medium, enamels, aren't dense enough and fluid enough to achieve the results I want. There are many paints available but they either don't blend or become flat. I would love to be able to carve a piece by sandblasting and then fill it with color and fuse it. But once you fuse it becomes flat and mottled so I guess that's the next challenge. I am awed by the blending and manipulating of colors with polymer clay and would love to bring that dimension to glass in fusing.
Inspirational Beading:
Who do you hope to inspire with your work?
Cindy:
I am also awed by the jewelry designer that can take one of my cabs or pendants and incorporate it into a masterpiece. I am always amazed at what others can do with my pieces. I dabble in it a bit myself but don't have the time to devote to the assembly process. I would hope that my creations are their springboard for fabulous designs.
Cindy Valenzo began her artistic journey at a very young age, starting with sewing projects for the 4H club. After working as a Corporate Credit Manager for 25 years, she turned her attention to the craft community, and opened her own store and public studio. Two years later, she returned to her home studio to focus on her glasswork. Cindy is a member of the Creative Glass Guild of Etsy, and the Glassanarchy group. You can see more of Cindy's beautiful designs in her Etsy shop CCValenzo.
Copyright 2010
Inspirational Beading
and
CCValenzo