Is there anything more wonderful on a hot summer day than scoop of ice cream? The looming heat waves are made less terrible by the notion that we'll be able to do things like swim outdoors, go shopping without socks on, and eat delicious frozen treats. It just wouldn't be summer without the musical sounds of the ice cream truck and excited children cheering in the distance.
The oldest and most basic of ice cream flavors are the ones that we often think of first. Chocolate, strawberry and vanilla - alone or apart - are really the building blocks of any great ice cream. After all, you can't have an orange
Creamsicle
without vanilla, and you can't have Rocky Road without chocolate.
One of the easiest ways to please everyone is, of course, to combine all three flavors. This is probably why almost every grocery store chain in the universe makes it's own brand of ice cream in 4 possible flavors: vanilla, chocolate, strawberry and Neapolitan.
It is this triple flavored ice cream that inspired this month's Bead Color Triad. The combination of white, pink and brown is so familiar, I thought it would be a fun challenge to see if they could make good non-edible palettes as well.
I had to dash out to the paint store to collect some new paint swatches before beginning this experiment. I was able to find a wonderful chocolate brown, creamy vanilla, and a bright, sweet-looking pink. Although I could already foresee some great bead combinations, it's pretty clear that as paint, the palette would be a little too sweet for an entire room!
The first palette,
Canopy Bed
, was inspired almost entirely by the brown roble wood beads that I selected when pulling bead colors. The beautiful wood grain with pink 15/o seed beads and Ceylon pearl 8/o's reminds me of the dream bedroom of any girl who ever wanted to be a princess. Imagine lace curtains, embellished with pearls, and a pink silk bedspread. Very romantic.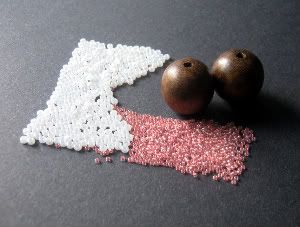 Curiously, the second palette also belongs in a girl's bedroom.
Vanity
is a palette of lotions, potions, perfumes and polishes. These are the colors you might find in a girl's first make-up bag, with shiny glass bottles and frosted jars of flavored balms. Here I used Fire Designs cane glass beads from the
Strawberry Shortcake mix
, frosted white magatamas, and some lovely dark topaz triangular oval beads.
I couldn't resist making just one ice cream palette with these colors.
Double Scoop
includes chocolate brown freshwater pearls, pink cats eye rounds and ovals, and vanilla-colored ivory 11/o seed beads. It looks good enough to eat. It wasn't until I paired the pink cat's eyes with chocolate and vanilla that I realized how 'sweet' they look. It's interesting that although true strawberries are quite red, these pale beads look like they could be strawberry flavored hard candies.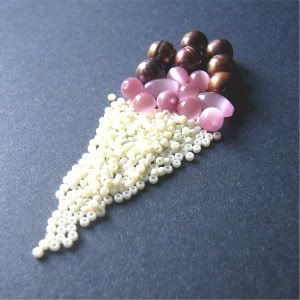 For today's ring, I added some pale yellow lined seed beads to the Double Scoop palette, and created
Banana Split
. The round beads were perfect for the design - like scoops of ice cream topped with sauce. Delicious!

Ring #7 - Banana Split
Copyright 2010
Inspirational Beading
and
The Sage's Cupboard