After making a ring inspired by
sunshine
, it occurred to me that a warm, clear day isn't the only kind of summer weather that I enjoy. I miss the spectacular, loud, and exciting summer thunder storms of the prairies. It's been years since I counted the seconds between a stunning flash of lightning and the boom of the thunder.
With today's ring, I tried to capture some of the excitement of a lightning storm using
St. Petersburg chain
. I used alternating rows of 11/o seed beads in navy blue, gray and yellow. The zig-zag pattern makes perfect lightning shapes.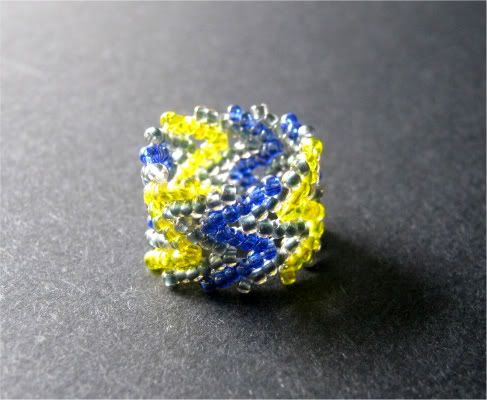 Although I like the overall design, I'm not completely satisfied with the finished piece. The St. Petersburg chain just doesn't work as well on a small scale as it does in a necklace or bracelet. The thread is very noticeable, and looks a little unpolished. So this ring is going to live in my jewelry box.
Copyright 2010
Inspirational Beading