If you're a bead hoarder, raise your hand.
What is it about the crafty crowd that causes us to amass huge stashes of supplies that we have no intention of ever using, because they're too precious, too rare, too beautiful? It's not just beaders. Scrapbookers have their most prized papers, tucked away for that momentous project that may never come. Quilters, doll makers and clothing designers do it, too.
I think two of the most hard-to-part-with items for a beader are
art beads
, and
vintage beads
. Hoarding an art bead is certainly understandable. They're so beautiful and unique - once we've committed to a piece to use it in, it will never have another chance to become something else. The same is true for vintage beads. Even if someone were to recreate something very, very similar, it wouldn't have the special quality of a long-lost treasure. Once a set of vintage beads is all gone,
that's it
.
I've been keeping a single strand of vintage Czech bicones tucked away in my stash for months. They're so very pretty, and always calling out to be used. But I made the mistake of only buying one strand. I would hate for something so wonderful to get lost in a huge project. So they've been sitting quietly amongst the
pressed leaves
and druks, waiting for the right inspiration.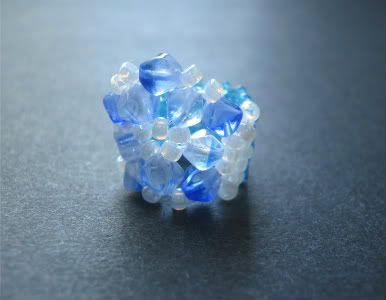 Ring # 13 - Partly Cloudy
I came across them again while looking over my stash for ring ideas, and it occurred to me that a ring would make an excellent display for rare beads. There would be nothing to overshadow them! I used the 5 rose technique to make a little pentagon of vintage bicones, and added a simple ladder band. I only ended up using half of the strand, so I still have a few of these precious beads to squirrel away a little longer.
Copyright 2010
Inspirational Beading
and The Sage's Cupboard