Ring # 14 - Ice Cube
Is there anything more exciting than a craft challenge? They're a great way to get out of a creative slump, and can provide plenty of new inspiration. Challenges are also a fun way to meet other crafters, try new techniques, and of course, show off your skills.
This month, the
Oh Canada Etsy Team
is having it's first ever creative challenge. All members - handmade and vintage alike - have been invited to create a listing with a distinct Canadian look, to help provide some great eye-candy for the team banner.
The Inspiration:
As the creator of the contest, I had a long debate about whether or not to enter a piece into the challenge. In the end, I decided to go for it, to encourage more entries and help promote the team. I had a tough time thinking of a unique Canadian design. I didn't want to go with the obvious red and white color combo - mostly because I don't have that many white beads to work with.
Although I am not a fan of the misconception that Canada is entirely and constantly covered with snow, I couldn't help going with a very Northern theme for my creation.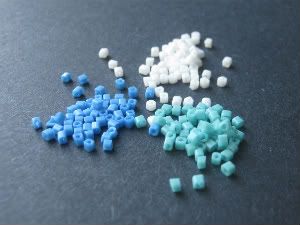 The Beads:
It was the beads themselves that inspired my snowy challenge entry. I've had these blue, turquoise and white Toho cubes for a while. The colors look so great together, I always thought it would be a shame to break them up. So, when it came time to make something that looked Canadian, I knew their time had come. I combined them with some shimmery silver-lined crystal 6/o seed beads for a winter wonderland palette.
The Beadwork:
I am not a fan of patterned beadwork. When I sit down to bead, I like to just dive into the work. Looking up and checking a pattern every few stitches seems to put a kink in my creativity. But for this bracelet, I bit the bullet and created a fun
Inukshuk
pattern. I used the blue and white cubes for the background, to create a horizon of sky and snow. The turquoise beads became the stones for the figure, standing majestically in the bright Northern sun.
Voting opens for the Oh Canada Team banner contest on June 17th. The top designs will be featured in the blog banner for the remainder of 2010. Stop by the
Oh Canada Blog
before June 28th to see all of the beautiful Canadian entries and vote for your favorite!
Copyright 2010
Inspirational Beading
and The Sage's Cupboard